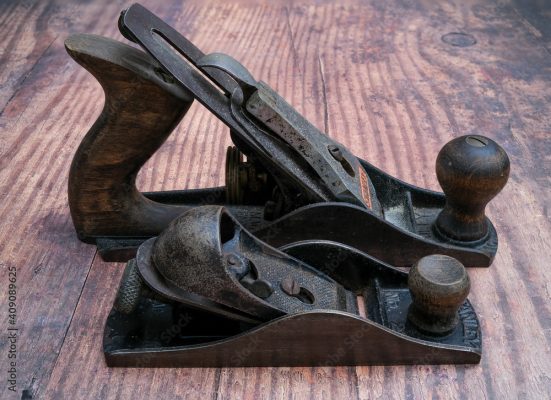 New generation
bench planes
Hand-held woodworking tools have also evolved.
From adjustments to use in the workshop or on the job site, discover why RALI's new generation of planes are highly appreciated by professionals and demanding amateurs:
To fully understand
1 – The history of planes
The hand plane is an essential tool for woodworking, it is used mainly by professional woodworkers such as carpenters, cabinetmakers, joint maker, luthiers, … and more and more by amateur enthusiasts.
It is an ancestral traditional tool that has evolved over the years.  
It is used to flatten wood surfaces, to make grooves or mouldings, to plane a piece of wood like a door sill, to correct irregularities, to chamfer. The plane reduces the thickness of the wood by removing more or less important chips according to the desired finish. 
The traditional manual plane is very practical because you can carry it with you without any worry. It is operational immediately.
To use your plane in an optimal way, you must first adjust it correctly. This operation requires different adjustments (depth, back-iron, light, parallelism). These can be more or less complex depending on the plane.
The iron of a plane must always be perfectly sharpened for a perfect finish.
The technique
2 – Sharpening the iron blades
There are several ways to sharpen plane knives.
The first possibility is to sharpen the knives with sharpening stones. The main difficulty with this type of operation is to maintain the original cutting angle to ensure optimal cutting quality during planing work. This is a very delicate and imprecise operation and the result may not be very good.
In order to get a factory sharp edge, professionals prefer to invest in a Tormek type sharpening system. The supplied guides ensure that the original cutting angles are maintained and that the edge is almost factory sharp.
These sharpening operations require you to dismantle the irons of your planes, to adjust your sharpening system, to be careful during the operations, and then to reassemble your iron. These operations take a lot of time and require a certain dexterity.
The purchase of a professional sharpening system such as Tormek is expensive and also requires that you set aside a working space in your workshop and of course maintain your sharpening machine.
The third option is to use a professional sharpener, provided you can find one near your workshop. In addition to the cost of sharpening, your work may be stopped for some time if you do not have spare irons.
Finally, a cost to be taken into account and a loss of time more or less important.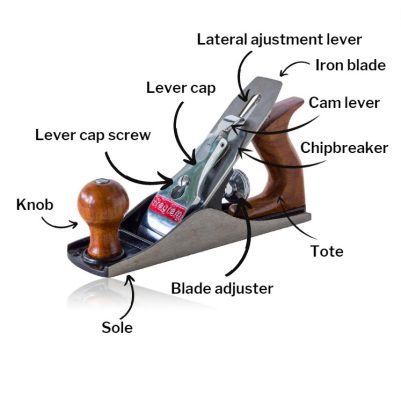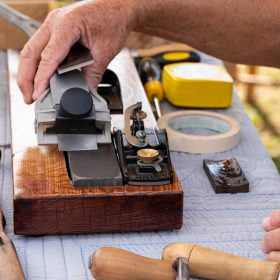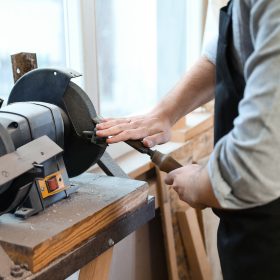 New generation bench planes
Innovation RALI
Revolutionary planes without sharpening
RALI planes are a real alternative to traditional planes. They are considered to be the new generation of hand-held woodworking tools.
The main innovation is our unique system of changing blades in a few seconds.
Sharpening operations are no longer necessary. Your planes are always ready for use.
The iron changing system allows you to work on soft and hard woods with the same tool. Simply replace the chrome iron with a tungsten carbide iron. The blades are stored in the handle of the planes.
Thanks to a coding system on the chipbreaker, your blades are always parallel. The blades are bicut, so you can turn them over in a few seconds in case of a planing incident (nail, shocks, etc…) or if they are worn. 
You don't waste any more time to maintain your knives, your work is never stopped. 
The second RALI innovation consists in the implementation of the adjustments. These are now ultra-simple:
 – Depth adjustment
 – Chipbreaker adjustment
 – Light adjustment
All these operations can be done in a few seconds using the lever and the central wheel.
Our blade changing mechanism, similar to that of our wood chisels, makes your experience easier and saves you precious time.
Our original blades are from our TERSA technology and have a long life. The cutting edge is always factory sharpened to ensure a perfect finish. The blades are recyclable.
RALI tools have been manufactured and assembled in Switzerland for more than 50 years, guaranteeing you a long life for your investment. A quality customer service assures you a follow-up and a replacement of the parts if necessary.
You can exchange directly with the manufacturer.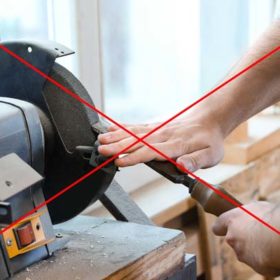 Professional line RALI Evolution N